Lord, bless the ones who are reading this prayer right now.  Cause them to walk in health and healing, faith and favor, blessings and breakthroughs, triumphs and turnarounds, and in the full power of prayer.  Amen!
I've been praying for you. Yes, you! Whether you just happened to come across my website, or you intentionally showed up looking for "Morning Fire", my 70-Day devotional, I have talked to God about you! 
Take time to explore, learn a little about me, purchase "Morning Fire, Igniting Passion, Power, and Purpose in Your Prayer Life," and view the docuseries which gives an inside look into my journey.  Welcome!
In short, I am a fearless woman, a Pastor's wife, a grateful mother of three sons, a dedicated educator, a prayer warrior, worship leader, writer, and a daughter of the King!
Lady Vanessa M. Gaskin (Lady V.) is a summa cum laude graduate of Temple University with a Bachelor of Science in Education, a Masters in Education, and a certification in reading.  Lady V has a deep love for learning, which translates well into the ministry to which she is called.  She is a student of the Word, prayer, worship and praise.  Lady V's specialty is prayer.  This mantle rightly fits her, as her roots come from a preaching father and an anointed mother.
Lady V is married to Pastor Jeffery Gaskin, and has co-labored in the ministry of Living Waters Christian Center from its infancy until now.  Together, they parent three sons: Jeff Jr., Jordan, and Justus.  At Living Waters, Lady V leads worship, proclaims the word of God, shepherds the women's ministry and promotes the primacy of prayer.  The prayer ministry is where the Lord has anchored Lady V to be a vigilant soldier in persistent and insistent prayer.  Annually, Lady V hosts an annual Women's Prayer Conference, whose success has nudged the church forward in prayer. Men, women, boys and girls all unite in prayer leading up to and through the annual prayer conference.  Through Lady V's prayer ministry the church has witnessed demons cast out, financial miracles, healings, and the release of our current church building.  She has written over 100 prayer text devotionals that are being compiled into a book.  This powerful woman of God is an ambassador for Christ for this season.  We know that she has an ear to hear from the Lord, and ask for your prayers as she delivers what God has birthed to you through her prayer closet.
What happens when you dedicate 70 days to prayer? You set your prayer life ablaze!  Make plans to purchase your copy of "Morning Fire, Igniting Passion, Power, and Purpose in Your Prayer Life."  This daily devotional is designed to nudge you and engulf you into a life of prayer!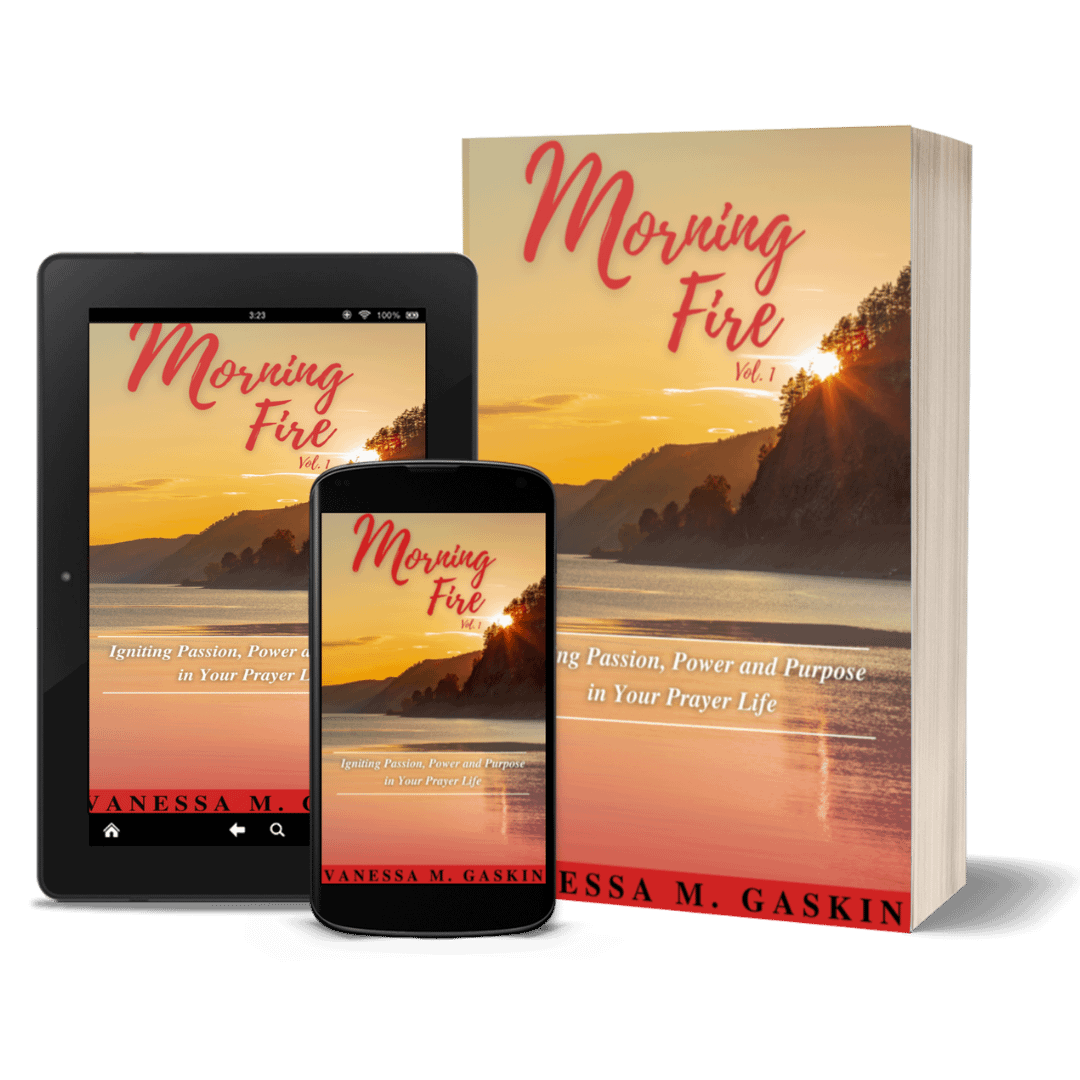 Check back frequently for updated information on events.
Book Launch!!
Saturday, September 18, 2021
2:00 PM
Voice of Deliverance Worship Center
6832-34 Old York Road (corner of 69th &Old York Rd.)
Philadelphia, PA 19126
Monthly Speaking on 4th Sundays
Living Waters Christian Center
5949 Spruce St.
Philadelphia, PA 19139
Upcoming 2021 4th Sunday Speaking Dates
~August 22
~October 24
~November 28
~December 26
Speaking/Ministry Engagement
Chosen Generation COGIC
Women's Fellowship
Saturday, October 23, 2021
12:00 Noon
5217 Woodland Avenue
Philadelphia, PA 19143
Women's Prayer Conference
I would love to pray for you!  Please send me your prayer requests so that I may go before the throne of Grace on your behalf. 
Living Waters Christian Center
5949 Spruce Street
Philadelphia, PA 19139
Email:  LadyV@vanessamgaskin.com